Riley's Room is the room of Riley Matthews. The room in in The Matthews' Apartment in Apartment 26.
Description
Edit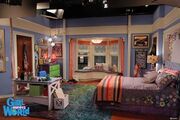 Riley's room reflects her personality. Her room in full of bright colors, however the walls are decorated purple. The room is mostly known for her bay window which is were Maya and Riley sit and discuss the world together. It is also the main location for the Cool Kidz Club meetings. The room's bed is very colorful and the drawers are painted green. The room shows Riley's a girly girl.
Residents
Edit
Appearances
Edit
Auggie Matthews is not allowed to come in here.
Maya comes in by Riley's window.