The Matthews' Apartment is the home of The Matthews Family. The apartment is located in New York City, New York. The apartment room is 26.
Residents
Edit
Living room/Kitchen (merged rooms)
Apperances
Edit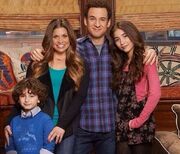 Rowan Blanchard said in Season 2, the living room will change.
The apartment has been seen in every single episode.
Every room has a bay window except Auggie's room and the kitchen.
Riley's room is the biggest room.
Maya comes in by Riley's window.