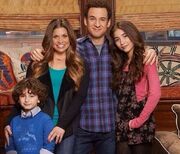 !

This article is a disambiguation page for The Matthews Family.
This disambiguation page lists articles with the same name. If an internal link led you here, you may wish to change the link to point directly to the intended article.
The Matthews Family 
is the family holding
Cory Matthews
,
Topanga Matthews
,
Riley Matthews
and
Auggie Matthews
.
Alan and Amy Matthews, Riley's grandparents
Joshua Matthews, Riley's uncle
Eric Matthews, Riley's older uncle
Morgan Matthews, Riley's aunt
In the original pilot. A brother, 1 year older than Riley was writen, he was suposed to be played by Teo Halm, however he was cut so they could make room for Lucas Friar
It is unknown if Morgan is still part of the Matthews family, or is married and changed her last name.
Auggie's original name was Louis.